Supernat in the building.
Wednesday, June 2, 2010
We got MC Supernatural set to host and perform at U-31's Generations Party. We've brought some pretty dope guests the past few months from the Beat Junkies(Babu, Rhettmatic and Jrocc), Pete Rock, Neil Armstrong(Jay Z's DJ), Dj Numark, Dilated Junkies(Babu and Rakaa), Mr Supreme, Daddy Rich, Tat Money as well as some of our local favorites Dj Ragz, Billie Knight, Von Kiss, Dope Shoes and others.
This upcoming week we bring you a special guest MC Supernatural if you havent ever seen this man perform then you definitely gotta be in the house hes gonna turn the party out with his Freestyles.
Please support the night it is a weekly event so we are here every week. I know peeps just like to come out when the guests come but the better we do during the off weeks the better the talent we will bring on the weeks when we do bring some guests.
Upcoming schedule
June 10th-MC Supernatural
June 17th-Gemini Party
June 24th-Ladies Night w/Dj Gigi, Pnutz and Malia
Free before 1030pm and $5 after. Please text Armory to 69302 and receive event info right to your phone. Also special sales and discounts to Armory store sales and functions as well.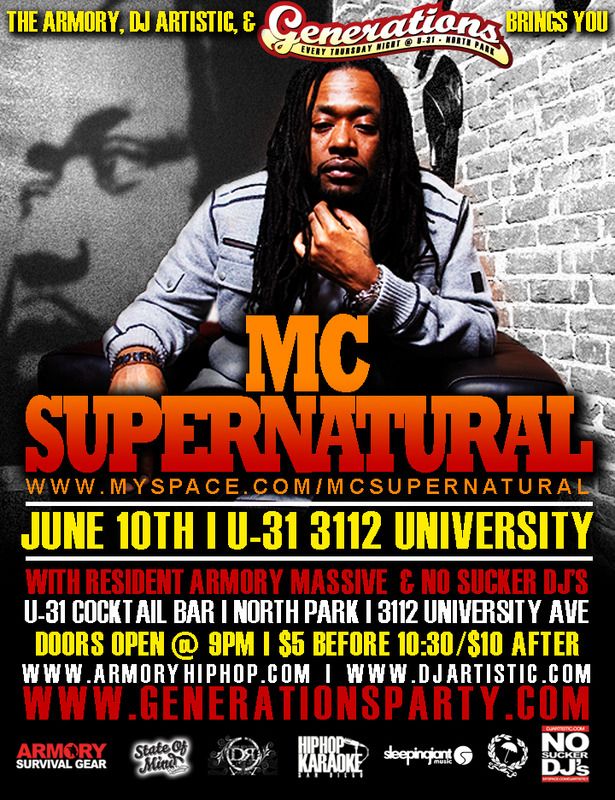 posted by Armory Survival Gear at 1:44 PM