Things that make you go hmmmm.....
Thursday, May 14, 2009
Ok so its pretty funny got a AIM from the homie Beatnick he linked me to this picture below.
I mean Im not making a big deal of it but its kinda funny. I mean we here at Armory are always flipping shit. From the notorious aSDthing(flipping of the aNYthing), to the Gully Shirt(San Diego Gulls Shirt), and ofcourse the Chargers and Padre logos we've done. I mean its one of our things we like to do. Obviously cause it actually sells better then our original artwork we come up with. Well sometimes(bridge shirt was our best selling SD based tshirt). Anyways below is a shirt we came out with in 07 around this time.
And what I found even more funnier is that we have this shirt coming out this weekend....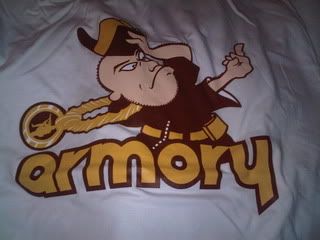 anyways its all good we keeps it moving. But it does make you go hmmmm...I dunno coincidence?
Things that make you go hmmmm....
posted by Armory Survival Gear at 12:15 AM