ASR AGENDA WEEKEND....
Thursday, January 22, 2009
Ok so today is the start of San Diego's Trade Shows Agenda and ASR. Agenda being more Streetwear related and ASR short for Action Sports Retail kind of self explanatory. Basically all kinds of people in this industry are in town. We got ALOT almost TOO MANY event going down that we are either doing ourselves or djing at. So there are plenty of alternatives to go round. So I will break them all down for you....
THURSDAY.
Ok so first things first the spot to be is the 80s and 90s night @U-31. You already know the business. We got a special guest from out of town going to rock tonight DJ ELEMENT out of Arizona. Hes one of our residents for Freestyle Session Worldwide and if you havent ever heard him rock definitely do not want to miss it. Also check the cast of residents as well....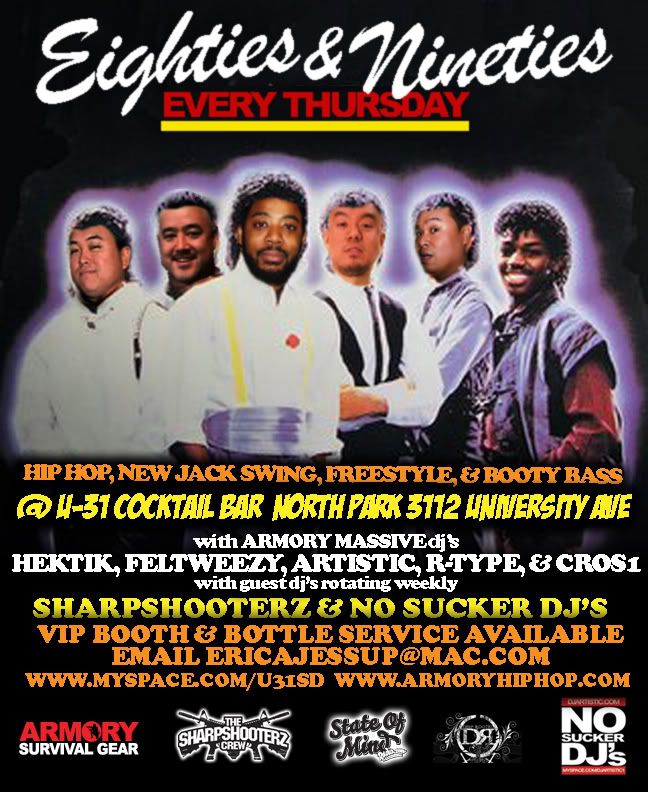 also on Thursday Night
Official Agenda Party w/Crooks and Castles and Hells Bellz @House of Blues
Dj Hektik of the Armory Massive will be djing there alongside Bamski of Hellz and Pase Rock from NYC.
Red C Lounge w/R-Type and Felt1 every 1st, 3rd and 5th Thursdays w/Armory Massive
NO COVER ALL NIGHT
Friday Night
This is going down at the Onyx Room. CROS1, Hektik and Felt1 all be handling the Djing duties. Should be live. Also heard Diamond Supply Co and Victory will be doing the downstairs as well so it should get crackin.
also on friday check Red C Lounge w/Charlie Rock and special guests Akrylick Clothing will be in the house as well.
Saturday Night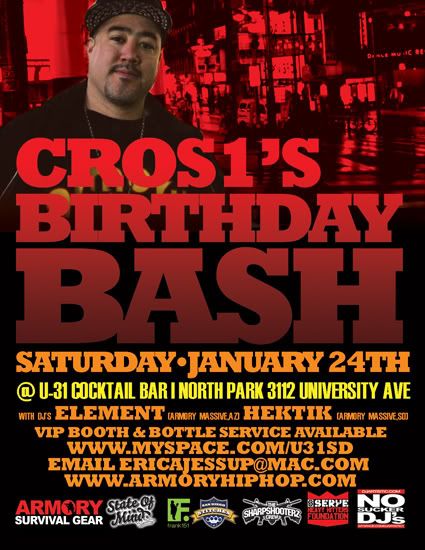 U-31 is the spot to be at for CROS1's bday bash. Dj Hektik and Element will be spinning all night long. Get there early it will sell out EARLY!!!
also on Saturday night
For all you 18 and up kids out there Armory is hosting a party with Fabricali @Aubergines.
Felt1 will be handling the Dj duties. Im sure you have heard the commercials on the radio.
also
Kimora Saturdays @Submissions w/Artistic and Felt1.
and
Red C Lounge w/Armory Massive.
also capping off the weekend will be Reggae Sundays w/Dj Hektik and the Shotta Crew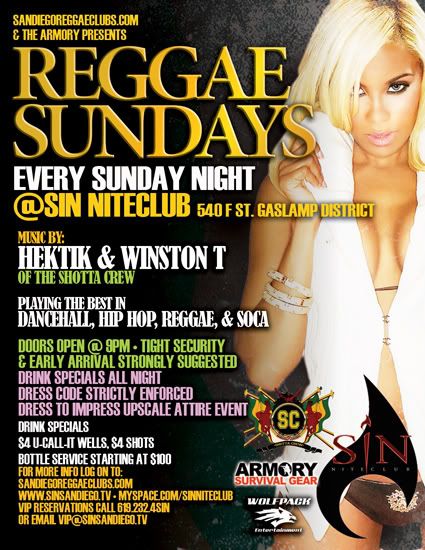 posted by Armory Survival Gear at 1:43 PM