Aug. 23/24 Freestyle Session 11 yr. Anniversary produced by Armory Massive feat. JABBAWOCKEEZ!
Monday, July 21, 2008
Ok so its that time of year again when we throwdown the annual(well sometimes) event Freestyle Session which is celebrating its 11th year anniv. This year we have a $25,000 in cash an prizes crew battle. If you dont know Freestyle Session is the largest bboy battle known in the WORLD! Last year we had a record 100 crews enter!!!
Also this year we are skipping the usual MC Showcases and replacing them with a all Dance showcase featuring Jabbawockeez, Storm(European Legend!) and Salah(Winner of Frances INcroydable Talent(Equivelent to American Idol or So You think you Can Dance here in the states).
This years showcases will blow your mind. Also we got some extra surprises up our sleeves as well so dont miss out on the event of the year!!!
Get your tickets now at www.Groovetickets.com(2 Day Passes available now!) 1 Day Passes are only available at the door.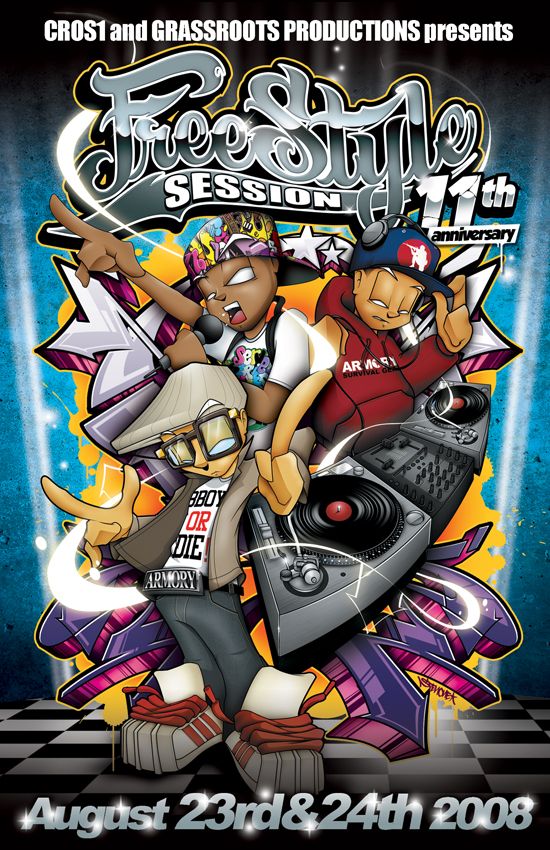 Save the date August 23rd and 24th
Freestyle Session 2008(11 Year Anniv.)
Location
Name Circus Disco
Capacity: 3500
Date: August 23 & 24th, 2008
Address : 6655 Santa Monica Blvd, Los Angeles, CA 90038
Dj's Kogataroo, Charlie Rock, Element, Abel, Jus Jones, Fingaz, and more to be announced
Bboy Battle's for over $25,000 in cash and prizes
Poppin and Lockin area produced by How the West Was Won
3 rooms of Hip Hop, Funk, Breaks and more
Live performance by Storm(performing Solo for Two) and Salah
and The Jabbawockeez(America's Best Dance Crew's Season 1 Champs)
judges to be announced
brought to you by CROS1, Armory Survival Gear and Grassroots Productions
peace
CROS1
CREW LIST
1. Unique Ingredients - Florida
2. CircusBHAM - California
3. FREAK ANGELS (THE FREAK SHOW .USA & SPEADY ANGELS .VENEZUELA)
4. END THE CYCLE Los Angeles, CA
5. Ill Flavored Rejects - Inland Empire, CA
6. 3-D (Driven/DOTposse/Definition)
7. JOYEUX LOUFOCK paris/france
8. CRIMINALZ 95 paris/france
9. Zulu Kings-Worldwide---RETURNING CHAMPIONS
10. Grounded - Sweden
11. Funk Fellas - Germany
12. Rumble Pack - Southern California
13. Ruffneck Attack - Ukrain
14. Found Nation- Japan
15. Extra Credit- Bay Area
16.
Xitama- Japan
17. Squishy Docious- Inland Empire


posted by Armory Survival Gear at 3:53 PM